Or what to bring? Or how to bring angst into your life by dwelling on the unknowable? What do you need and what do you want are separated by a gulf of pounds. This is the angst.
Some background. Picture a banana. At one end of the curve is bring nothing. At the other end is bring everything. These are absurdist extremes. Every backpacker will land on the curve somewhere between. The current popular movement in backpacking circles is called ultralight. This refers to the base weight of your pack. The base weight means the weight of your fully loaded backpack minus your food, water, fuel and clothes you are wearing. To be ultralight, the base weight must be under 10 lobs. To be sub-ultralight, it must be under 5 lbs. On the banana scale that is moving toward the nothing end of the spectrum. In the past, I've carried packs with a base weight of over 40 lbs. I think there was a live animal somewhere in there. (The top laugh getter on a long backpacking trip is to secretly and steadily add rocks to your buddies' pack over the course of several days. Get it?)
So where am I? I've spent days researching ultralight gear. As I want to move away from the bring everything philosophy. But I want to retain some measure of comfort over the next four months or so. The angst returns as the banana ride continues.
I won't bore you with every detail of what I settled on, but here are the big four.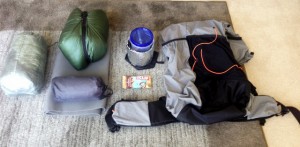 Shelter:
Hexamid solo tarp
(weight – 1 lb. 2.3 oz)
Sleeping:
Jacks are Better down sleeping quilt
1/8″ thick sponge mattress
Full-length Thermarest inflatable air mattress
(weight – 2 lbs. 11 oz)
Backpack:
Gossamer Gear Mariposa
(weight – 1 lb. 11 oz)
Kitchen:
Vargo titanium woodburning stove
Vargo .9 liter titanium pot
Ziploc 4-cup mixing cup
chopsticks
Lexan spoon
mini lighter
mini swiss army knife
(weight – 14.5 oz)
TOTAL WEIGHT: 6.42 lbs
Add in the rest of the gear and my base weight settles in right at 14.5 lbs on the banana curve. I'll let you know how that works out for me, but when food and water are added, I should end up in the upper 20's pound-wise.
Steve Halteman
San Diego, California
Hiking the PCT for the Kids of Escuela Verde
If you'd like to help out and donate, please click here!