Most ultralight gear is hidden on the internet and not really available in brick retailers. You have to dig and listen to other backpackers weighing in, which is what I did. Thus most of my gear is pretty standard in terms of the ultralight approach.
Two items are, however, unusual and deserve mention: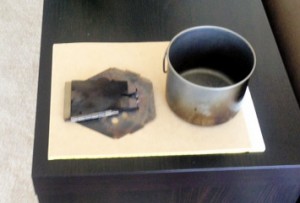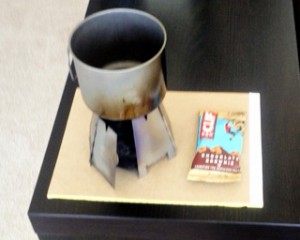 ITEM #1:
The Vargo Woodburning Stove- Most backpackers cook with some kind of fuel. It's messy, heavy and, yes, has a tendency to run out. On the other hand, a chef can adjust the heat and cook along recipe lines. I figured I'd burn everything anyway, so why not do something fun? Dinner will go something like this: Set up wood burning stove in two seconds, add tinder and sticks thru door. Put cup of water on. Boil water. Pour over something and eat it. Sounds good from my sofa.
ITEM #2:
This one is a little more out there. Shitting in the woods is simple. Dig a hole out of the way and go shitting in the woods with toilet paper. It's complicated. What to do with it? Bury it in the hole? No, as it often gets dug up by animals and then it gets blown around and always in your direction. Blowing TP in the wilderness is a damning statement on mankind. So you carry it out. Yeah, very pleasant ziploc bag on that one. So here is what I have come up with. Never go anywhere without it. Give them as a Christmas present.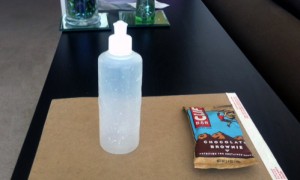 What is it? The humble 9 oz. lavette bottle. Also known as the perineal irrigation bottle. A manual version of the heated Japanese toilet water jet. I just call it like it is – the Ass Blaster. Shit, squeeze and shoot from desired angle, eight ounces will clean you right up, and drip dry. Cover up a hole and get back to the trail. Weight: 0.9 oz. Cost: $1 -$2. Available on Amazon. No need for TP. A real game changer. Maybe a revolution is in order.
Steve Halteman
San Diego, California
Hiking the PCT for the Kids of Escuela Verde
If you'd like to help out and donate, please click here!