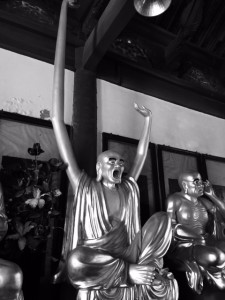 (July 16, 2015) Lots of Gods. The town is thick with their spread. Taoists, Confucianists, Capitalists, Buddhists, Jews, Christians and Muslims. Neighbors within blocks. The graceful roofs sheltering their Deities pimple the cubist horrorscape that is the modern Chinese city. Their houses of worship left alone to look backwards. As if the developers hedged every bet at their walls, just in case one of the outfits called it right.
This particular temple was Buddhist. We stared at the impressively gutted Buddha. Under his heels the caption. "Big belly can endure all that is hard to endure in the world."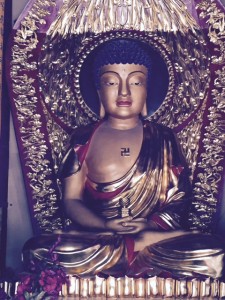 I looked around for faith. Something I've never captured when it comes to these Gods. How much smoother would life be if God faith was a companion? All explainable with a simple God reference.
Thought interrupted. "Daddy what is Buddhism?" I go deep for an answer and come up shallow. "It's the belief that nothing matters because all is impermanent. That we should be detached and not crave things. That we should live in the moment because the past and future do not matter. And some other stuff." Maybe not too shallow.
"That makes no sense. Stuff matters and I like things. And by the time I say something the moment is past."
12-year-old checkmate. I weakly abdicate parental responsibility and rush away from any defense. "I'm with you Fly."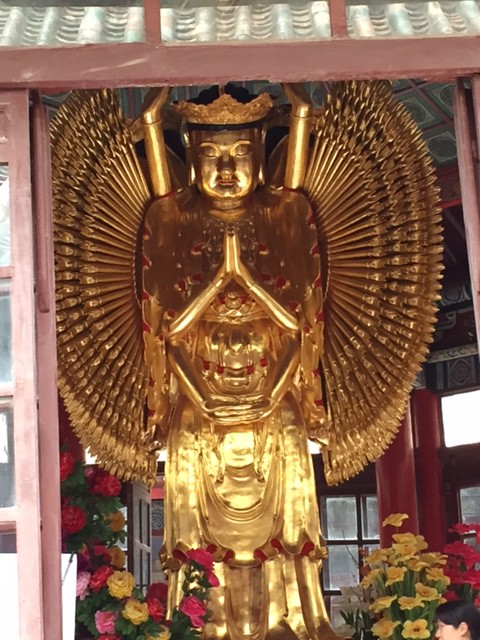 Bait and switch. "Hey look at that Buddha over there. It took 58 years to carve." "It's big." says she.
I take another stab. "Maybe that's Buddhism Fumiko. The person who carved that lived in the present for 58 years." "Sounds kind of boring but I guess Buddhism's OK. I especially like it's bellies."